There have been a significant number of groundings, collisions and near miss incidents caused as a result of maneuvering in an anchorage, dragging anchor or leaving it too late before heaving up an anchor in poor weather.
These incidents have resulted in the loss of lives, pollution and costs running into tens of millions of dollars.
Therefore anchoring operations demands more care
Let us learn from the mistakes others have made.
Anchoring Operational Procedure
Anchoring represent a critical operation in that operator errors may produce immediate and significant accidents or create severe threats to the ship, its crew and cargo as well as the environment and other property.
On approaching shallow waters, both anchors must be cleared and kept ready on the brakes for use.
Letting go anchor
Anchors must not be dropped by brake from a height of more than 20 m above the sea bed, other than in emergencies.
Walking back anchor
Walking back the anchor specially in depths more than 80m could be hazardous as the extra weight of the chain and anchor on the windlass motor will be beyond the design criteria.
Anchoring in depths over 80m can lead to situations where the windlass motor is unable to pick up the weight of the anchor and cable.
Hence anchoring at such depths should be avoided as far as possible.
Anchoring in Ice
The force exerted by ice cannot be restrained by the ships anchoring equipment. Anchoring in ice should therefore be avoided except in an emergency.
SAG Phenomenon
Windlass operations:
When the anchoring operations (heaving or lowering the anchor chain) has to be stopped and wait for the next action, make sure that the following actions are taken.
Make the brake fully tight and set the chain stopper as required.
Never leave control lever of hydraulic motor in neutral position unless the brake is fully tightened.
If the control lever is held in neutral position when the brake is not fully tightened, the hydraulic motor is slowly rotated by the weight of anchor & chain (SAG phenomenon) then suddenly runaway in a few minutes.
It may,
Damage the hydraulic motor or hydraulic system
Cause loss of the anchor and chain.
Officer in charge of anchor station to be aware of the limitation of anchoring equipment. In making his decision whether to stay or leave, the master should be aware of the limitations of his anchoring equipment, that hydraulic motor is the weakest link in anchoring system and is not designed to heave anchor in bad weather.
Beware of the SAG phenomenon that hydraulic motor may lose its hysraulic lock and over speed to destruction under the weight of anchor cable.
Preparation for Anchoring
Planning by Master
Every passage plan should include provision for anchoring.
If this is not done at the commencement of the voyage, the passage plan should be amended when anchoring is known to be a requirement.
Example of planning
Anchoring location : T Anchorage , Fujairah UAE
Type of anchorage area: Designated anchorage for vsl, as informed by Fujiarah port control
Type of holding ground: Mud and sand
Anchoring Depth: 70 m
Nearest land: 5.0 nm
Proximity to dangers: No Underwater dangers in vicinity
Expected traffic density: Congested anchorage area, with heavy shipping traffic
ETA: 11th Sep 2020 / 1030 lt (Daylight)
Abort point: Abort point and escape route identified on the chart.
Stage 1
Stage 2
Stage 3
Stage 4
Stage 5
Stage 6
Stage 7
Stage 8
Stage 9
Stage 10
Stage 11
Stage 12
Stage 13
Stage 14
Approaching the anchorage, identifying escape route for any emergency abort manoeuvre.
Unless a vessel is to anchor in a position designated by a port authority, the master identifies a suitable anchorage position before entering the anchorage area.
When approaching a crowded anchorage plotting the positions of ships already at anchor on the chart will usually enable a suitable anchorage position to be identified.
When an anchorage position has been selected a planned approach can be made.
Often the best direction of approach to the anchorage will be determined by noting the direction in which other vessels of similar type, size and draught are heading.
By approaching the anchorage on the same heading, maneuvering in a confined area can be minimized.
Anchoring manoeuvre abort point & escape route
Marking the abort point & escape route
Take care when marking an abort point and escape route. At the abort position, there should be sufficient sea room for the ship to undertake any of the following manoeuvres safely:
Turn around
Stop in safe waters
Anchor
Importance of Abort position and Escape Route
Even the best ship handlers occasionally get it wrong. Excessive speed is a common factor.
Even where an anchoring plan is agreed, prevailing circumstances may require the plan to be changed and there may be little time to react to new situations
In particular changes in wind conditions, tidal streams and the movements of other vessels often create problems.
It is better to abort the manoeuvre and make a second attempt than to fail on the first.
Selecting the anchoring position
Before anchoring, the master satisfies himself that the chosen anchor position is:
Suitable for the size and draught of the ship
Clear of other vessels, taking into account swinging circles
Clear of underwater cable, pipelines, wrecks or other obstructions
In accordance with any local regulations
Not observing a fairway or interfering with the safe navigation of other vessels
Of suitable depth and holding characteristics
Careful considerations is given to the maximum depth of water from which the anchor can be recovered.
What is open anchorage
An open anchorage is one which:
Is not marked on the chart as a designated anchorage
Is open to effect of wind, sea and swell (not sheltered)
What are the procedures and precautions for anchoring in open anchorage?
Where the situation demands (for e.g tendering Notice of readiness, pilot/port authority orders, ships conditions etc) & the vessel is left with no other option other than anchoring at open sea anchorages.
What are the procedures and precautions for anchoring in open anchorage?
During stay at open anchorage, engines must be kept in constant readiness and careful watch to be maintained on vessels position and on weather conditions.
|Master must endeavor to minimize the duration at open anchorages, and wherever possible should leave the anchorage & drift safely off the port in deep water clear of dangers after completing the required formalities.
Anchoring party toolbox meeting
Only trained personnel should perform anchoring and mooring operations. This is imperative to reduce equipment damage and hazardous situations, leading to serious injuries or loss of life.
Deck personnel responsibility:
As far as maintenance is concerned, deck personnel are responsible are responsible for inspection, maintenance, lubrication, derusting and painting of anchor windlass equipment.
They also ensure that any header tanks or other hydraulic tanks are properly topped up.
Engineers responsibility:
Any break down , routine PMS or detailed machinery maintenance are carried out by engineers, who should also be familiar with windlass manual and equipment.
Prior to the anchoring party going forward, the officer in charge if the anchoring party should be aware of:
The approximate anchoring position
Environment conditions, e.g wind, current and tide
The method of approach
Which anchor is to be used
The depth of water
The method of anchoring
The final length of cable to be used
The officer in charge requires the above information to properly brief the anchor party. He should also ensure that suitable PPE is availaible and being worn, including goggles.
Limitation of the anchoring equipment
Keep In mind:
Maximum pulling force for the anchor windlass is less than 10% of the chain breaking load.
The windlass is not able to haul the vessel against wind and current or break out an embedded anchor.
The windlass is only designed for heaving a free hanging anchor from a depth of 82 m.
With the windlass motor engaged, especially when heaving the hydraulic motor is the weak line in the transmission system.
Note the following:
Max anchoring depth: 3 to 4 shackles (approx. 80-100 m)
Speed over ground (SOG) not to exceed 0.3 knots (9m/min) astern
Weather condition: Wind, current waves and swell within acceptable limits.
Note! Waves and swell can induce hazardous dynamic forces into the anchoring system.
Make sure you have communication equipment to have direct contact with the bridge at all times.
Check the anchoring equipment's condition before operation
The Windlass Brake
The most frequent failures for an anchor windlass are due to lack of maintenance, especially adjustment for wear of the band brake linings and lack of lubrication.
Poorly adjusted windlass brakes or lack of maintenance can result in loss of anchor and chain, as the brake no longer will have sufficient holding power.
Inspection of the hydraulic unit – HPU
Carry out following checks on the hydraulic system:
On deck Preparation
Remove all lashings and coverings from chain stopper, hawse pipe and spurling pipe.
Grease all lubrication points and open gears
Remove and secure the chain stopper locking bolt and locking pin if there is one.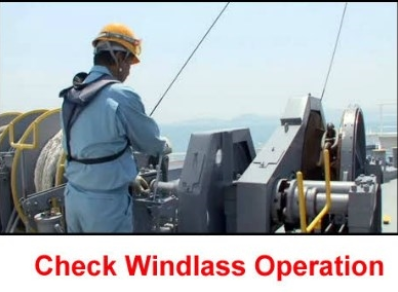 Windlass operation checked
Brake properly applied
Anchors to be cleared
Anchor black ball prepared in the fore part
Communication with bridge tested
Anchor walked out and clear of hawse pipe
It is important that sufficient time is allowed for hydraulic systems to warm up before use particularly in cold weather.
When engaging dog clutches the pins or other locking arrangements should always be used.